Regular price
Sale price
£6.99 GBP
Unit price
per
Sale
Sold out
Introducing the Apex Hook Baits
.
As the name suggests these Hook baits provide the pinnacle of performance for Carp bait!  
Apex Hook Baits are the ultimate carp bait from Baylys Baits that will take your carp fishing game to the next level! These Hook Baits are specially crafted to catch much bigger carp all year round.  The results some of our Anglers are reporting back to us are just blowing our minds.
If you're serious about catching big carp, then you need the right bait.  Carp require a diet that is rich in protein, vitamins, and minerals, and they are more likely to be caught by baits that offer them the nutrition they need. That's why we offer a range of high-quality carp baits that are designed to provide the nutrition that big carp crave.
Whether you're a seasoned angler or just starting out, our range of baits will help you catch the biggest fish in the lake.
Our Hook Baits have up to 80% more nutritional value
The Apex Hook Baits are made using a unique steaming process that locks in up to 80% more nutrients for the fish than mass produced boiled Hook Baits that lose their goodness.
High Quality Natural Ingredients
We only use high quality ingredients for our Hook Baits.  The Apex Hook Bait range includes spicy liver, sausage and garlic.  Giving it a pungent aroma designed to keep the carp coming back time and time again.
Unlike other Hook Baits that use egg powder, these boilies are made with real whole eggs, this further increases the nutritional value.
All Year round performance
Not only are these Hook Baits packed with nutrition and flavour, but they are also incredibly versatile. Whether you're fishing in the heat of summer or the depths of winter, the Apex Hook Baits are guaranteed to perform. They are perfect for short fishing session through to long multi-day fishing trips as they can be used in a variety of water conditions.
So why choose Baylys Baits Apex Hook Baits? The advantages are clear. These Hook Baits are made with the highest quality ingredients, steamed to perfection, and designed to catch the biggest carp in any season. With their nutrient-rich composition, the Apex Hook Baits are the ultimate carp bait designed to give you bragging rights at any lake.
Don't settle for anything less - try them out for yourself and experience the benefits first-hand!
Share
View full details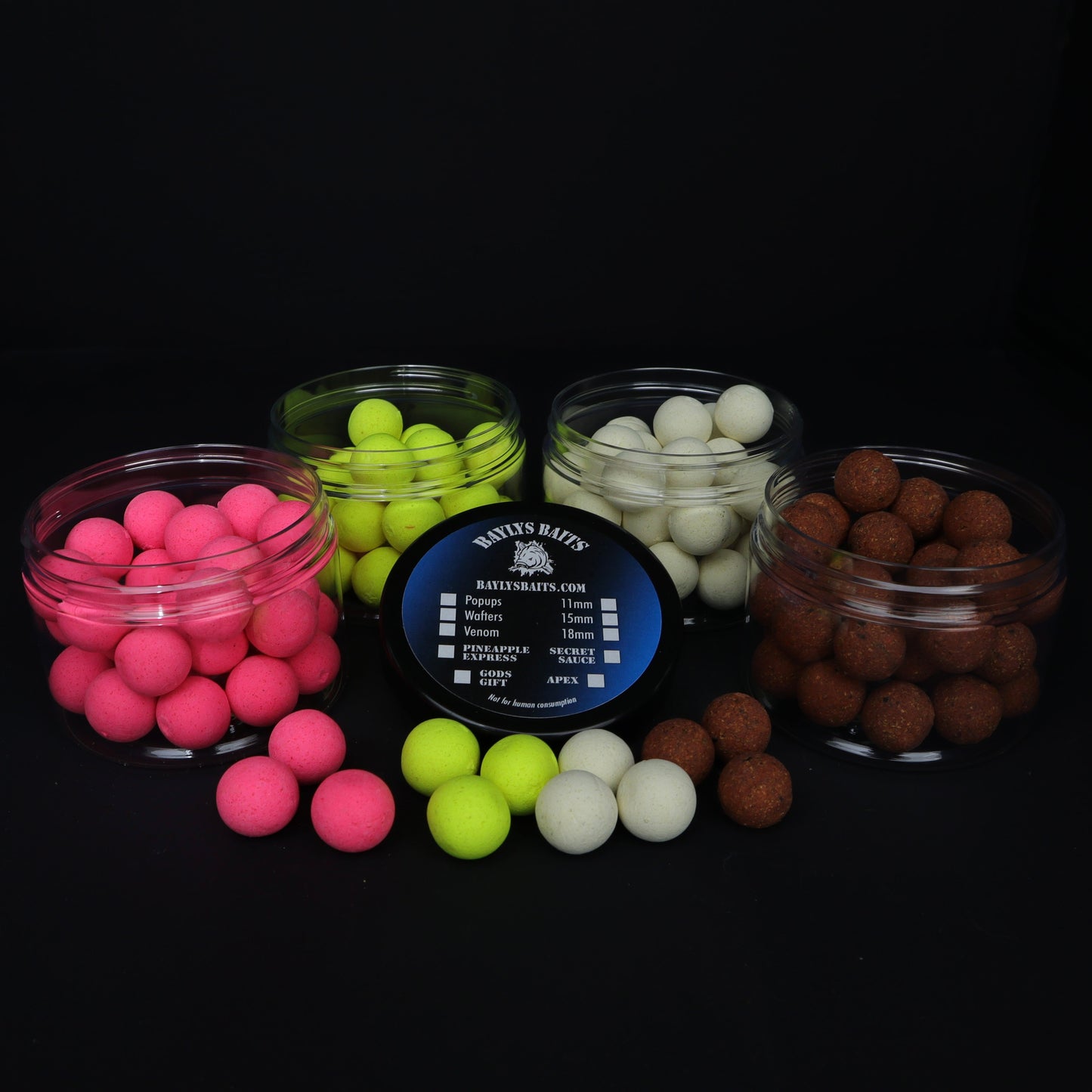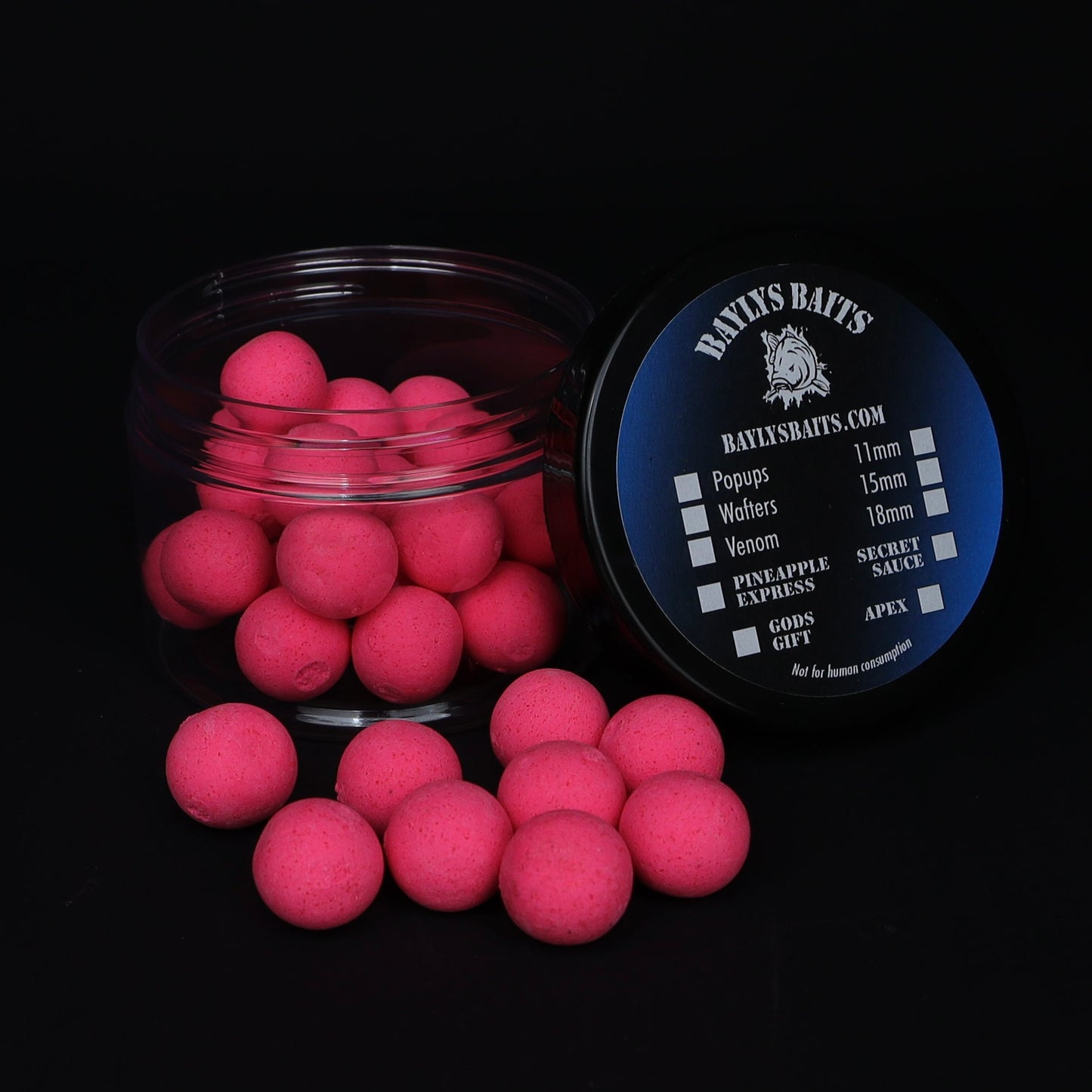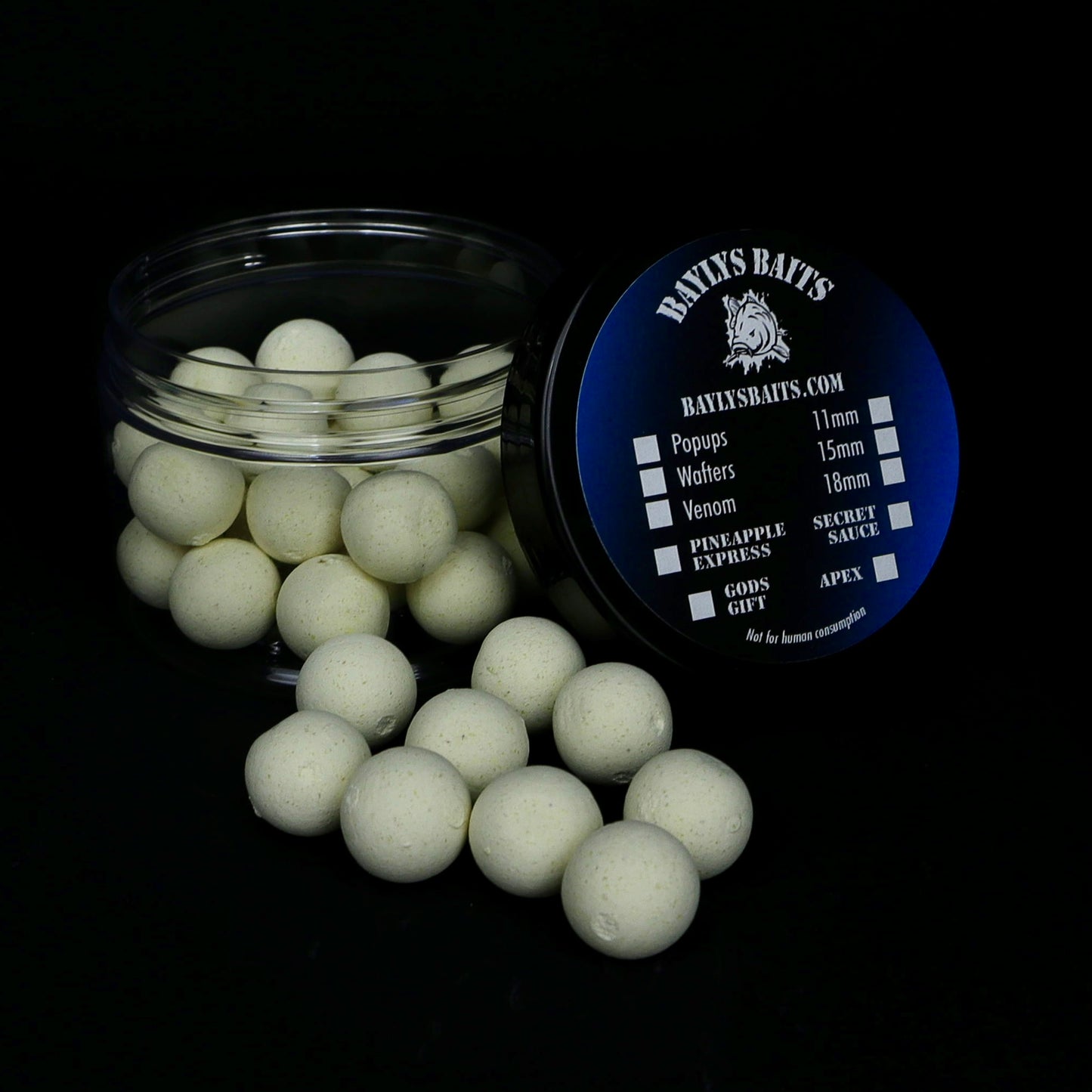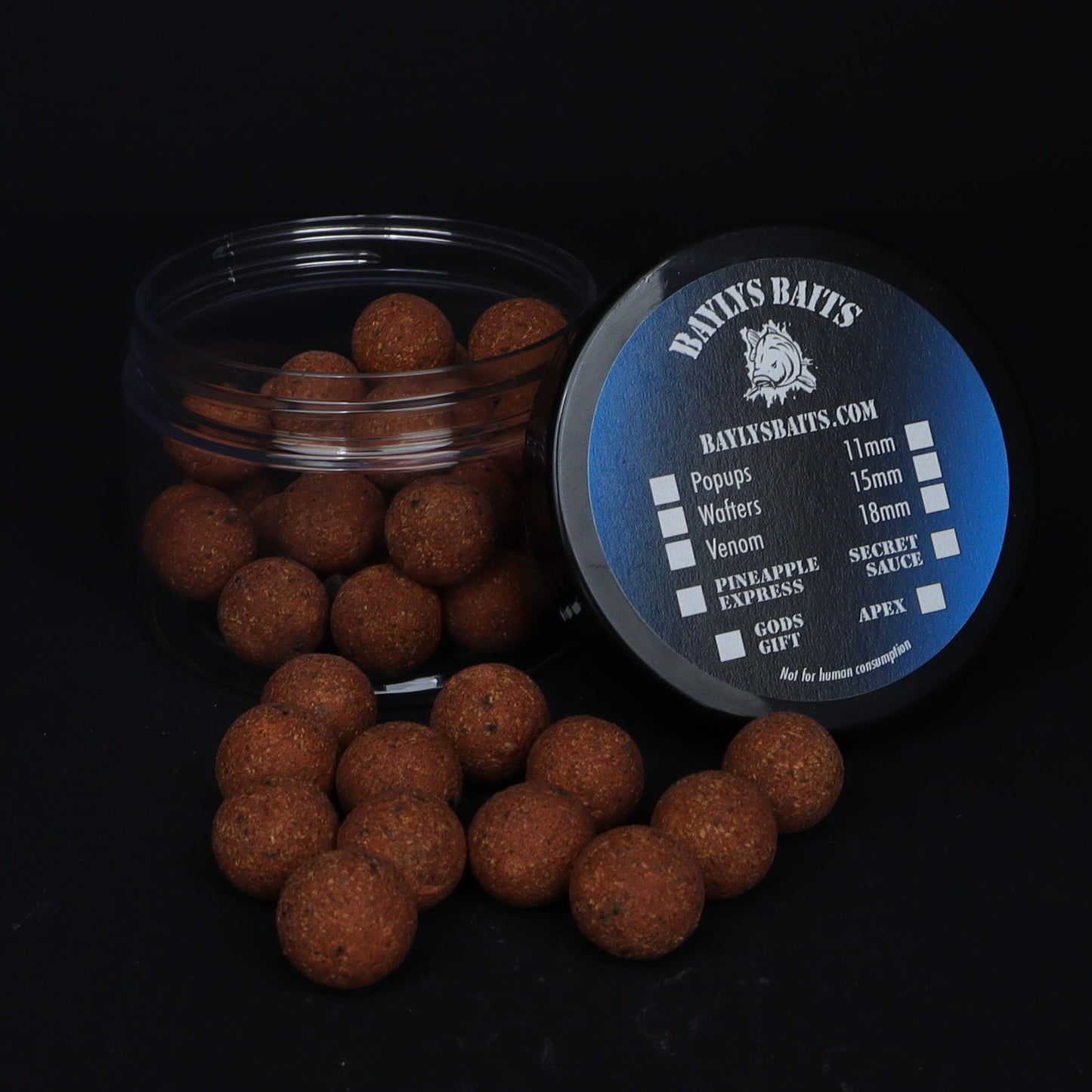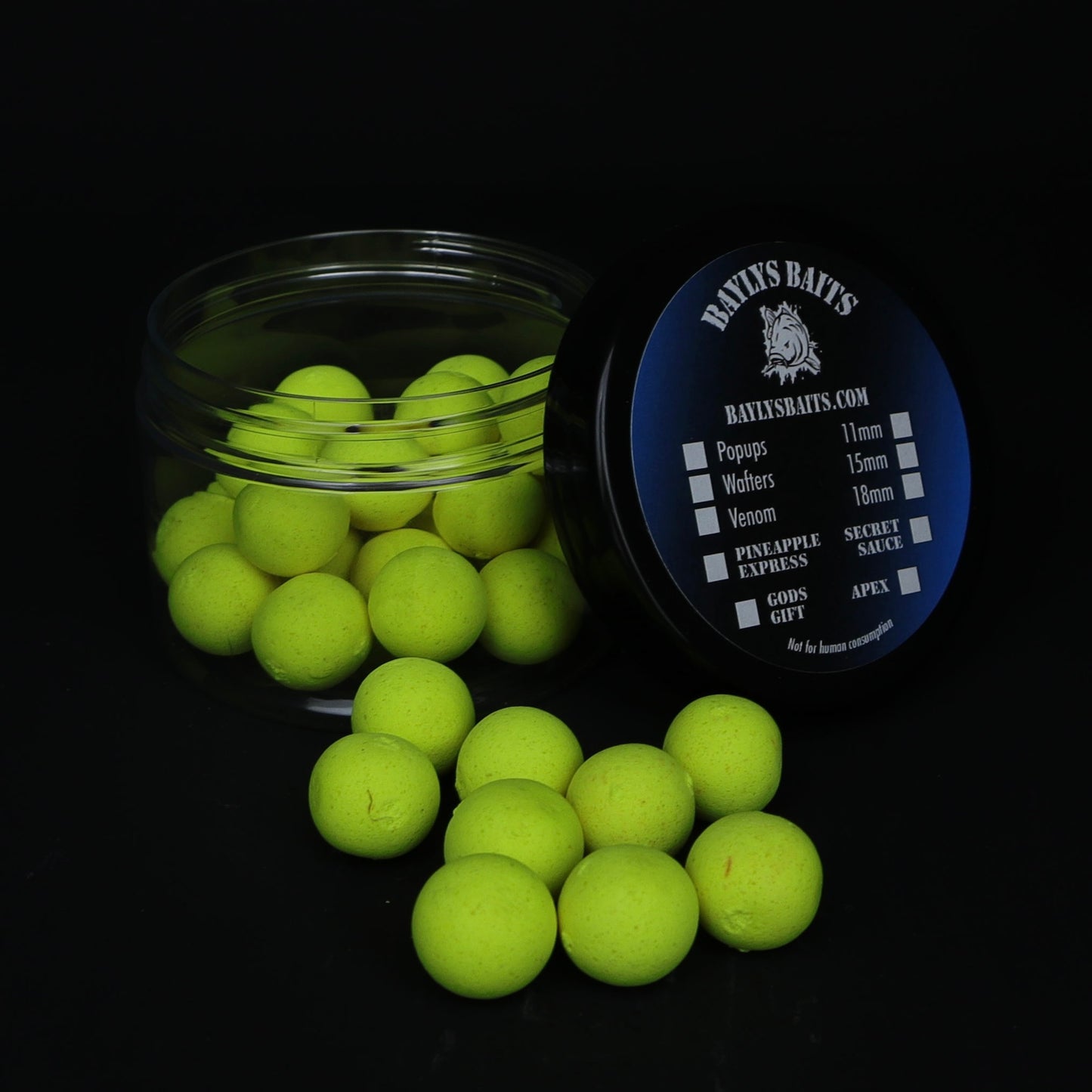 Unknown ?
I haven't had a chance to try them yet. I buried my Mum on the 1st. So been a bit preoccupied.
Amazing
The apex pop-up is right up there with the top brands with a strong cent that just doesn't fade .it floats well for hrs if left . Had some lovely carp with the combination of apex boiles & apex pop-ups it works so well, i wouldn't change anything about the apex boiles or the pop-ups no need to it's a perfect combination I'm 100 % satisfied and will continue to purchase the great apex pop up.
Apex pop ups
Bait ..packaging ..delivery .all very good the boilies I purchased look and smell amazing I'm looking forward to trying this bait I've used most of the popular baits and am not convinced that they are as good as we are led to believe so hopefully you have something that is above the standards of the big boys ....I'd like to be a return customer so we'll see how you perform.....thanks lads
TAKING CARP ALL OVER THE COUNTRY
TAKING CARP ALL OVER THE COUNTRY
I've been using apex since Baylys released the flavour and all I can say amazing bait range and the carp seems to love it aty syndicate tight lines 🎣🎣